If you're searching for a Golden Retriever rescue in North Carolina, we have found three active organizations across the state in 2023. Whether you're in Charlotte, Raleigh or in the Piedmont Triad, we have found a rescue that is within close proximity of you.

Golden Retriever Rescues in Charlotte NC
There is currently only one Golden Retriever rescue in Charlotte NC, but thankfully it has an outstanding track record and has been serving the area for decades.
Golden Retriever Rescue Club of Charlotte (GRRCC)
Website: grrcc.com
Phone Number: 704-348-1573
Socials: Facebook | Instagram
The GRRCC has rescued over 2000 Golden Retrievers since its conception in 1991. This longstanding rescue continues to save Golden lives every month and is frequently running events to fundraise and spread awareness.
Requirements for Adopting a Golden in Charlotte NC
GRRCC has some clearly stated adoption requirements for its Goldens, as it wants to ensure they get placed in a safe, suitable home. Some of the requirements include:
You must be at least 21 years old
Have a spacious yard surrounded by a strong fence with a minimum height of 4 feet
Preferably have no children under the age of 4
You can read more about their adoption information here if you want to see the full requirements.
GRRCC Adoption Fees
Firstly, there is a $25 adoption application fee and an addition fee depending on the age of the dog. Compared to many other rescues, the adoption fees at the Charlotte Rescue Club are very modest.
| Age of Dog | Adoption Fees |
| --- | --- |
| Under 2 years | $350 |
| 2-8 years | $300 |
| 8-10 years | $100 |
| 10+ years | Any Donation |
Golden Retriever Rescues in Raleigh NC
Neuse River Golden Retriever Rescue
Website: goldenrescuenc.org
Phone: 919-676-7144
Socials: Facebook | Instagram
NRGRR is a very active Golden Retriever Rescue in Raleigh NC, but it also take in dogs from many surrounding cities.
It is renowned for taking in absolutely any Golden Retriever, regardless of its age of medical state. In total, Neuse River Rescue has saved over 4000 Goldens and placed them in new forever homes!
NRGRR hosts Meet and Greets on the 1st and 3rd Saturday of every month, where it allows anyone interested to interact with the available dogs for adoption. This is a great way to let people get to know the dogs a bit first.
Neuse River Rescue Adoption Fees
There is an initial $40 application cost and the final adoption fee is dependant on how old the dog is. Remember that it costs Neuse River on average $1700 per dog that they rescue, so these fees are small in comparison.
| Age of Dog | Adoption Fee |
| --- | --- |
| 8 weeks to 1 year | $450 |
| 1-4 years | $400 |
| 4-9 years | $350 |
| 9+ years | $150 |
| International Dog (Any Age) | $800 |
Neuse River Rescue also has a special 'Senior to Senior' incentive, whereby anyone 65+ can adopt one of their Golden Retrievers that is over the age of 9 for free. There's nothing like good old company!
NRRGR has costs exceeding $300,000 per year, so any donations or adoption fees certainly go to good use.
Neuse River Golden Retriever Rescue Available Dogs
Neuse River has a comprehensive page on their website that shows all the Goldens available for adoption or fostering.
Each of these dogs has different requirements, so make sure to read the cute profile descriptions for each of their Goldens.
For example, some may need training on issues such as overprotectiveness, behavior around other dogs and house training.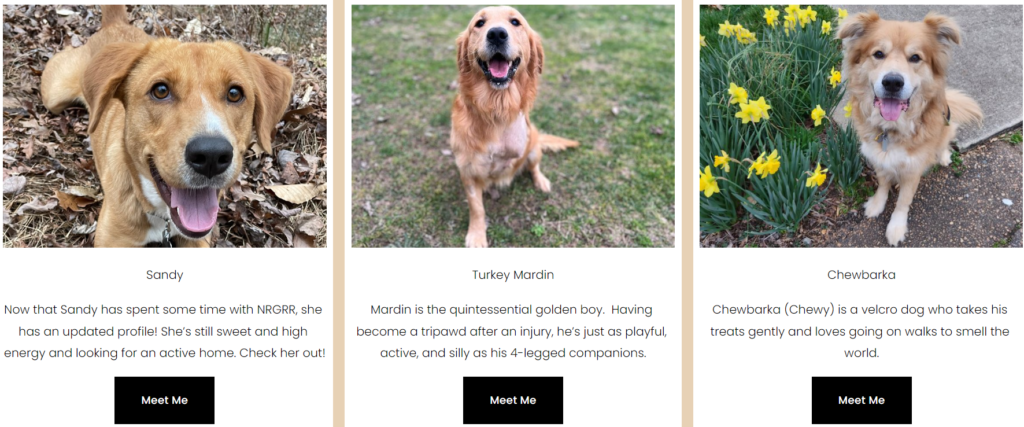 How to Volunteer at Neuse River Golden Retriever Rescue
There are countless ways that you can volunteer to support the Neuse River Rescue, including:
Fostering
Transporting
Social media and photography
Community events
Meet & Greets
Reviewing applications
Regardless of what skills you might have, there is bound to be a way you could help. Click here to read more about what each of these tasks would involve.
Golden Retriever Rescues in Greensboro NC
Triad Golden Retriever Rescue (TGRR)
Website: tgrr.org
Phone: (336) 288-9944
Socials: Facebook
The Triad Golden Retriever Rescue is an all-volunteer organization that rescues Goldens throughout the Piedmont Triad area in NC. If you're looking for a Golden Retriever rescue in Greensboro or Winston-Salem, this will be the closest one to you.
TGRR ensures that every dog that comes into its care receives a full veterinary check-up, vaccinations, heartworm treatment and neutering if needed. It then works with its supportive volunteers to temporarily foster the Goldens while they search for a permanent home.
There is a fantastic page on their website that shows all of the Golden Retrievers available for adoption in NC. When we last took a look, we saw these three sweeties eagerly searching for a new home!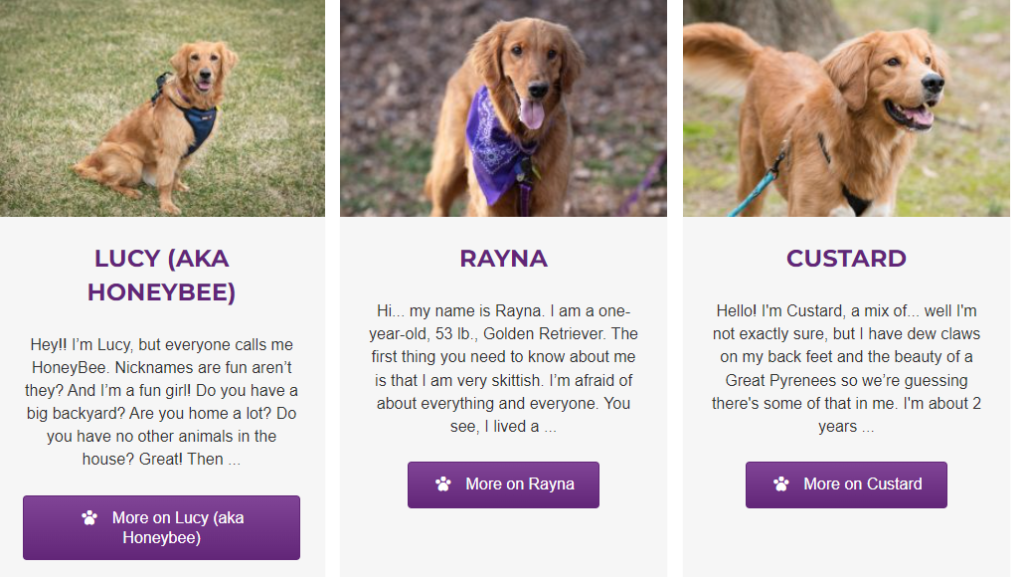 TGRR also provide owners with the option of surrendering their Retriever if they cannot care for them anymore. As sad as this may seem, it can sometimes be the right choice for the dog's quality of life.
TGRR Adoption Fees
TGRR has an application fee of $40, as well as an adoption fee that varies depending on the age of the Golden Retriever.
| Age of Dog | Adoption Fee |
| --- | --- |
| Up to 6 years | $400 |
| 7-9 years | $250 |
| 10+ years | $150 |
The application process typically lasts 3-4 weeks, as TGRR need to verify that your home is suitable. For example, it is important that you have a fenced yard.
Golden Retriever Rescues in Wilmington NC
There used to be a Golden Retriever rescue in Wilmington NC called the Cape Fear Rescue, but it is sadly no longer running.
But not to worry, because the Neuse River Rescue in Raleigh that we have already covered is only about a 2 hour drive away from Wilmington, so this would be your best bet!
As long as you are within a 3 hour radius of Neuse River then it will be possible to adopt a Golden Retriever from them.
Advice for Finding a Rescue Golden Retriever in NC
There are times of year where you may only see very few Goldens available on these rescue websites. This could be due to the rescue groups advertising their availability in other places first, or could simply be because the Goldens were all lucky enough to find new homes.
However, there are still some extra steps you can take to maximize your chance of finding your perfect match.
Follow Rescue Social Media Pages
We always recommend that you follow the rescue organizations on their relevant socials. If the rescue has a Facebook Group, then we highly suggest you join, as many rescues choose to interact here the most.
This way you will quickly discover where each rescue most frequently posts and you will have more of an opportunity to interact.
Rescues will often post about extra events and fundraisers on their socials, which can be a great chance to meet some of their volunteers and even the doggies!
Reach out to Rescues in Neighboring States
If you're dead set on rescuing a Golden Retriever but can't find any in North Carolina, then you could always try venturing into neighbor states if you live by the border. Feel free to check out the Golden rescues in these neighboring states;
Many rescues operate across multiple states, so it is perhaps worth contacting an organization cross-state if it is still relatively close to you. It is certainly possible that they could point you in the direction of Golden Retrievers in need much closer to home.
Why Not Foster a Golden Retriever in North Carolina?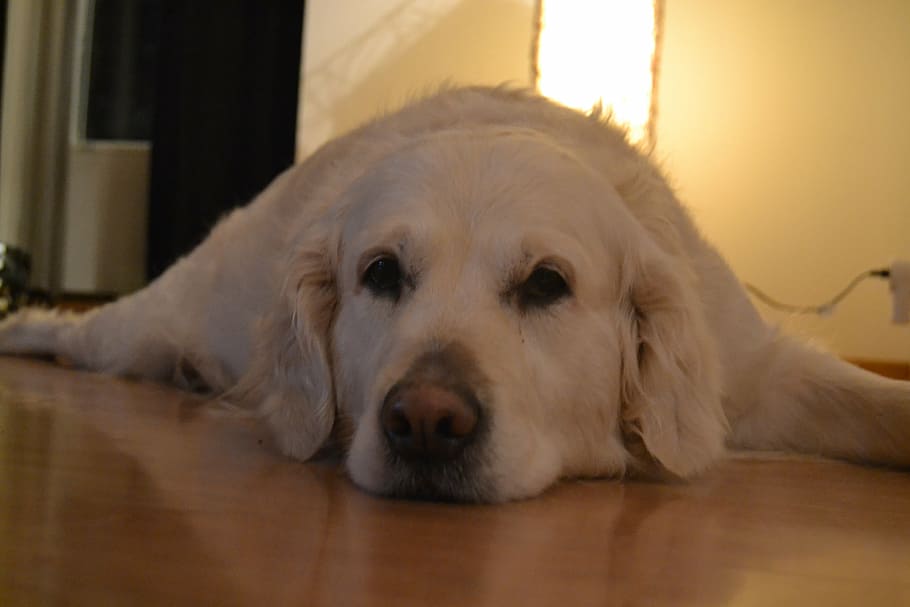 Most rescue organizations are highly reliant on their foster volunteers, as these are the people that step forward to temporarily home the rescue Golden Retrievers while they wait to find a permanent home.

The dogs will typically stay with their foster for a few weeks, where they will have the responsibility of looking after their basic needs, helping them settle in to family life and sometimes some basic obedience training.

This can be a highly rewarding experience and can serve as a great alternative to permanently adopting a Golden Retriever.
However, it is important to remember than many of the Goldens arrive at their foster family in a vulnerable state.
While the rescue organization will have already ensured that their basic medical checks and treatment have already been carried out, the Golden may still have trauma from its previous ownership.
As a result, some of them may be very shy, not fond of other dogs or even slightly aggressive. Therefore you need to have patience and know how to deal with dogs with special needs.
Conclusion
Golden Retrievers are a popular breed and inevitably some of them fall into the arms of shelters or rescues. This can happen due to them being abandoned, their owners dying or if they are no longer wanted.
Thankfully, we are blessed to have some amazing Golden Retriever rescues in NC and there are plenty of ways you can get involved. Whether you want to adopt, foster or simply volunteer, any of these organizations would sincerely appreciate your help.
By helping to rescue these dogs, you are doing a commendable thing that makes a huge difference to the lives of these innocent animals. Thank you for your support!
FAQs
Are there any Golden Retriever rescues in North Carolina?
Yes, there are three Golden Retriever rescue organizations operating in North Carolina as of 2023. The areas they cover include Charlotte, Raleigh and the Piedmont Triad.
How much does it cost to rescue a Golden Retriever in North Carolina?
The rescues often spend in excess of $1500 per rescue Golden Retriever in medical fees. To help deal with these costs, they usually ask for a modest adoption fee, which typically ranges from $150-$400 depending on the age of the dog.
What is the difference between adopting and fostering a Golden Retriever?
Fostering means temporarily providing a home for a new rescue Golden Retriever, which typically lasts 2-6 weeks. On the other hand, if you adopt a Golden Retriever then they will come to live with you forever.