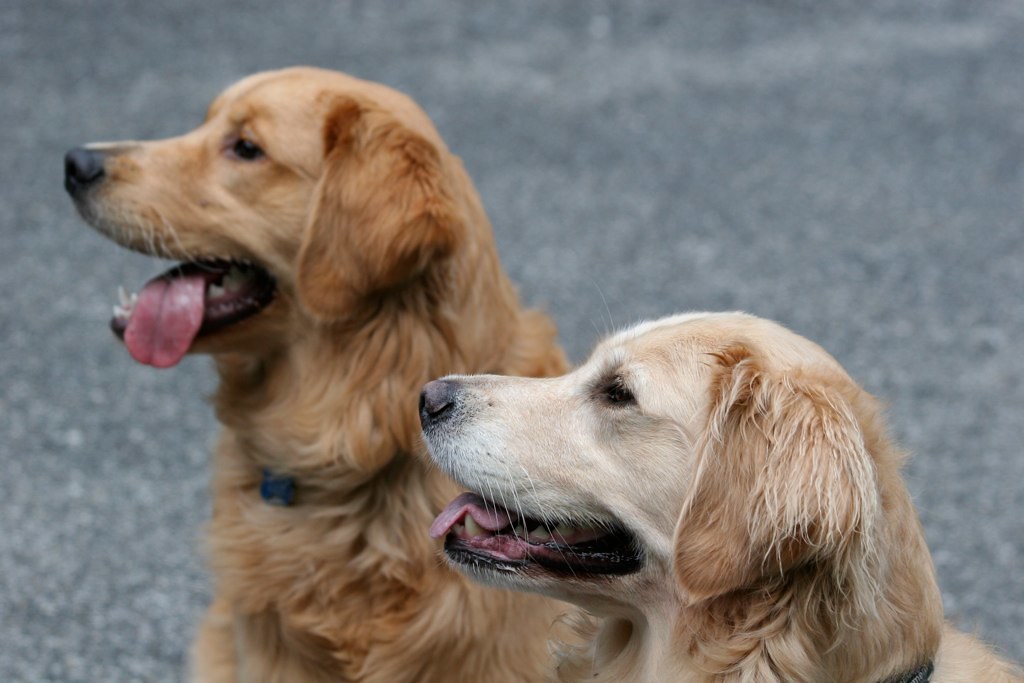 If you're looking for a Golden Retriever rescue in Tennessee, we have found three dedicated Golden rescue organizations operating in 2023 throughout the state.
These are non-profit organizations that are dedicated to re-homing these amazing dogs and they are always on the lookout for additional support.
Whether you live in Nashville, Knoxville or Memphis, we will try to point you to a rescue closest to your area!
Golden Retriever Rescues in Nashville TN
If you're looking to rescue a Golden Retriever in Nashville, there is currently one standout option.
Adopt a Golden Nashville
Website: adoptagoldennashville.com
Adopt a Golden Nashville is a non-profit, volunteer organization dedicated to rescuing and finding loving homes for Golden Retrievers in Middle Tennessee.
They rescue dogs from shelters, owner surrenders, and strays, and they provide them with medical care, foster homes, and training before placing them in permanent homes. They also offer education and support to adopters and the community.
AGN is the main Golden Retriever rescue in Nashville and the following map shows its adoption area, which mainly covers the Nashville area. It also points out some other rescues in neighbouring areas, although sadly some of these are no longer active.
If you're interested in getting involved, there are three main ways you can support this wonderful rescue:
1) Adopt a Golden Retriever
If you're ready to provide a new forever home for a Golden, you can register your interest to adopt one of the rescue Goldens that are looking for a new family. Some of them may have special requirements or medical needs, so it's important that you're aware of any extra considerations you may have to take when adopting.

This is the most impactful way you can help, but it is understandably a big commitment. If you would still love to support but are not ready to adopt a Golden, you'll be glad to hear there are other ways you can really help.
Golden Retriever Adoption Fees in Nashville
| | |
| --- | --- |
| Dog Age (Years) and Breed | Adoption Fee |
| 1-4 | $375 |
| 5-8 | $325 |
| 9-11 | $250 |
| 11+ | Any Donation |
| Purebred Puppies (< 6 months old) | $600 |
| Purebred Puppies (6-12 months old) | $500 |
| Mixed Puppies (< 12 months old) | $400 |
2) Foster a Golden Retriever
If you don't feel ready to adopt a furry friend permanently, AGN is always on the lookout for fosters since it doesn't have its own shelter facility. The primarily role of the foster is to look after a doggie until AGN are able to find a proper home for them!
The foster period typically lasts anywhere from 2 to 6 weeks, as the team at AGN are fantastic at getting their rescue Goldies re-homed as soon as possible.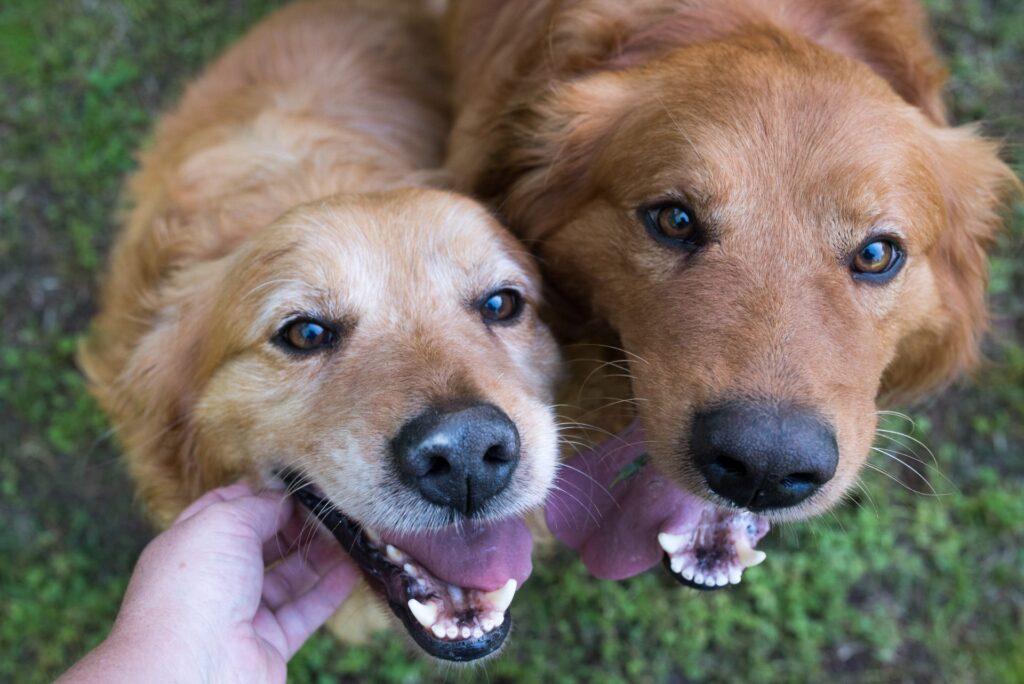 3) Become a Volunteer
There are plenty of other ways you can support, such as helping with their social media and photography, or even joining their home visit and transport team where you will be helping the team rescue Goldies in need!

Since AGN run completely off donations, they are heavily reliant on volunteers and would therefore be hugely appreciative of any support you would be able to offer them. If you're interested in becoming a volunteer, you can apply here!
Golden Retriever Rescues in Knoxville TN
There are two main organizations you should take a closer look at if you want to rescue a Golden Retriever in Knoxville.
Adopt a Golden Knoxville
Website: adoptagoldenknoxville.com
Socials: Instagram & Facebook

Adopt a Golden Knoxville (AGK) is a non-profit organization that operates solely with volunteers and has a mission to provide permanent homes for Golden Retrievers who are orphaned, to prevent them from adding to the shelter overpopulation or becoming strays. AGK also helps owners who can no longer take care of their Golden Retrievers.
The organization accepts Golden Retrievers of any age or medical condition and offers comprehensive veterinary care such as spray, neutering and training services.
Additionally, AGK welcomes golden mixes and Labrador Retrievers, whenever possible. AGK aims to educate the public, particularly dog owners, in Knoxville and East Tennessee about responsible pet ownership, spay/neuter, positive training methods, and veterinary specialist referrals.
You can see all of the Goldens they have available on their orphan page. Each dog has its own individual page with a description and lots of adorable photos.

They have a mixtures of rescue puppies as well as senior dogs who are all looking for a loving home!
AGK also rescue Goldens from Turkey and try to find them a new family home in Tennessee! The transportation fees can be expensive, but this way they are helping to save dogs that otherwise would be left stranded.
Adopt a Golden Knoxville – Adoption Fees
If you're interested in adopting a Golden from AGK, the adoption fees are as follows:
| | |
| --- | --- |
| Dog Age/Breed | Adoption Fee |
| 1-4 years | $375 |
| 5-8 years | $325 |
| 9 years + | $250 |
| Purebred Puppies (< 1 year old) | $600 |
| Mixed Puppies (< 1 year old) | $400 |
| Turkey Dogs | $600 |
Overall, AGK is a fantastic Golden Retriever rescue in Knoxville and continues to save many lives every year.
Tennessee Valley Golden Retriever Rescue (TVGRR)
Website: tvgrr.com
Phone Number: (855) 558-3100
Since its conception in 1997, TVGRR has rescued over 2800 Golden Retrievers throughout Tennessee and placed them in forever homes. It has always relied entirely on donations to achieve this and the team is incredibly grateful for any support you might be able to offer them.
TVGRR is unique in that you can become a paying member, which grants you perks such as voting privileges, the ability to join the Board of Directors, a personalized membership card and much more. This starts from just $20 per year, so it is certainly worth subscribing if you're passionate about helping Goldens around Knoxville.
If you like to know exactly where your donations go, TVGRR produced this very helpful graphic demonstrating the various costs for every dog that they take into their care. The costs certainly add up, which is why every donation means a lot to them and helps to save lives.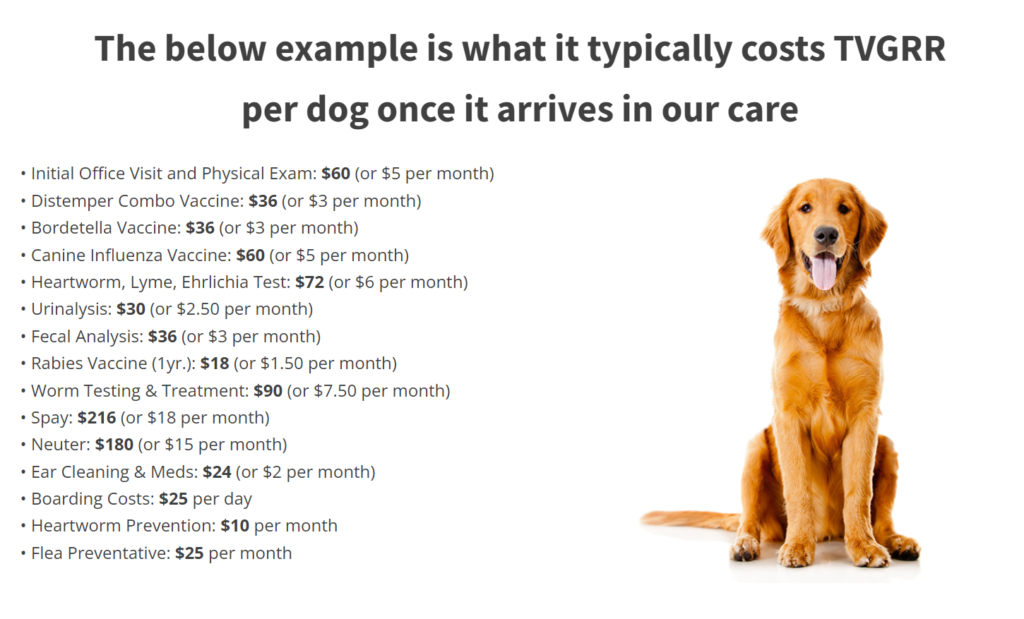 TVGRR Adoption Fees
TVGRR charge $25 as an application fee and have the following adoption fees depending on the Golden Retriever's age:
| | |
| --- | --- |
| Dog's Age (Years) | Adoption Fee |
| Under 4 | $350 |
| 4-7 | $300 |
| 8-10 | $225 |
| 10+ | $150 |
Golden Retriever Rescues in Memphis TN
Unfortunately the longest-running Golden Retriever rescue in Memphis TN known as MAGRR ceased its operations in November 2022. It was active for over 20 years and helped to rescue thousands of Goldens and place them with a new family!

Rescue organizations such as MAGRR are completely reliant on donations and it can be highly challenging for them to keep operating. This illustrates just how welcome any kind of donation is because they help to keep these wonderful organizations afloat.
Consequently, this means that there is no dedicated Golden Retriever rescue currently active in Memphis, but there are other rescues that accept all types of dogs that sometimes see Goldens pass through their ranks. These include:
Tips for Finding a Rescue Golden Retriever in TN
Golden Retrievers are one of the most adored breeds in the world and are fortunate in that they usually are able to find an adoptive family when in need.
This means it can sometimes be difficult to find a Golden that is waiting to be rescued. If you have taken a look at all of the dogs these organizations have for adoption but can't find many available, here are some extra tips that should help you in your search.
Tip #1: Search for Local Facebook Groups
Many of the Golden Retriever rescues in TN have Facebook groups where they share frequent updates and are able to interact with their supporters.
These can often serve as a more intimate setting than website and it is commonplace for Goldens available for adoption to be shared here before the website.
You may also be able to find generic Golden Retriever Facebook groups local to your area, where people may look for potential adopters before surrendering their dog to a rescue. This could happen because the owners passed away, are moving country or simply can't care for the dog anymore.
It's always better if the situation can be resolved before the dog has to be taken to a rescue, as it takes a lot of dedicated funding to arrange the care and placement of each new Goldie that comes in.
Tip #2: Reach out to Express Interest
Next, you should reach out to the rescue organizations directly and express your interest in being alerted when any new Goldens come into their hands. Many rescues will alert their existing members and contacts first when they have a new dog available for adoption, as there is often a waiting list of people who have expressed interest.

If the organization was unable to quickly find someone to adopt the dog among their existing supporters, then they usually take the next step to publicly list the dog on their website or Facebook Group. This is why you might only see a handful of Goldens advertised on their websites.
Moreover, rescues need to ensure that each Golden's new adoptive family will be able to adequately provide for them. Therefore, they may have to carry out some basic checks. These could include checking if you have:
A safe, enclosed garden
Young children
Other pets
Experience with dogs
These are certainly not definitive requirements, but could be needed if a particular dog has certain vulnerabilities or behavioral issues.
This is why it's a good idea to reach out as soon as possible!
Conclusion
We hope we managed to point you in the direction of some dedicated Golden Retriever rescues in Tennessee and gave you some useful information on how you can get involved.

If you're aware of any new rescues that pop up throughout the state, please comment below and we will update this page as soon as possible. Thank you for supporting Rescue a Golden!
FAQs
How can I rescue a Golden Retriever in Tennessee?
Reach out to the nearest Golden Retriever rescue to your city and express your interest in adopting a Golden. There may already be dogs available for adoption or you may have to join a waiting list.
How much does it cost to rescue a Golden Retriever in Tennessee?
Adoption fees range from $100-$600 in Tennessee depending on the age of the Golden Retriever. This is still far less than all of the medical bills the rescue organizations have paid for on behalf of the dog.
Can anyone rescue a Golden Retriever?
Certain dogs may have special requirements, such as an enclosed garden or no young children or other pets. It is preferable if you have experience with dogs, but this is not a hard requirement. The main thing is to have patience and be very caring!