If you're looking for a Golden Retriever rescue in Virginia, we have put together a comprehensive list of rescues across the state.
Unfortunately, many Golden Retrievers find themselves in need of rescue for a number of reasons, but luckily there are rescues in Virginia that work tirelessly to save and rehabilitate these great dogs.
On this page we have detailed information on adoption, volunteering, fostering and donating at these great organizations. Whether you are looking to add a new member to your family or just want to support a great cause, our aim is to help you connect to these rescues in Virginia.
North Virginia Golden Retriever Rescue
Golden Retriever Rescue, Education and Training (GRREAT)
Website: grreat.org
Phone Number: 703-620-6593
Socials: Facebook
Service Area: North Virginia
GRREAT has been rescuing Goldens since 1983 and continues to save hundreds of dogs per year across North Virginia. It has a very useful page where you can view all of the available Golden Retrievers, as well as the ones that have recently been adopted.
They run lots of fantastic events every year, where you can meet their Goldens and even bring yours along if you already have one.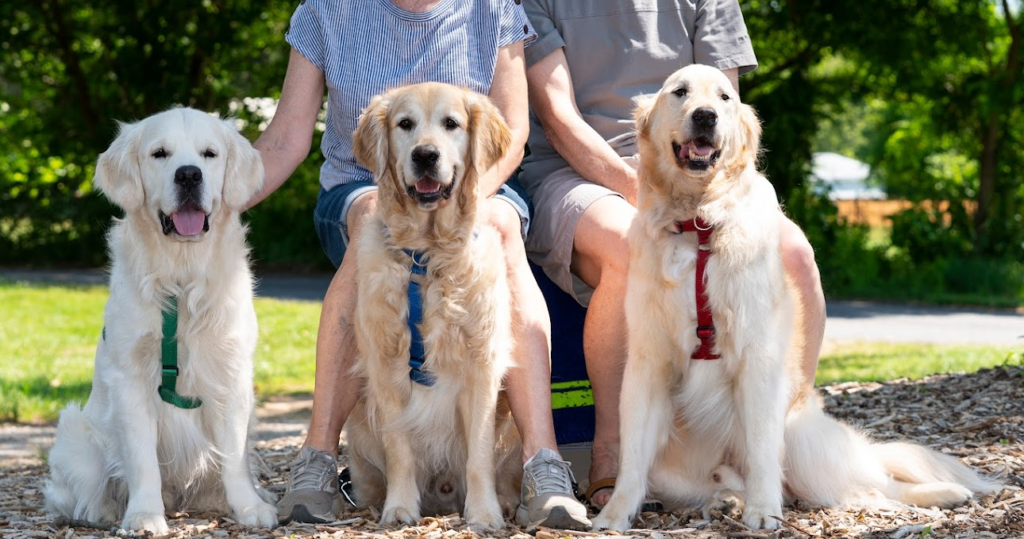 How does Adopting a Golden from GRREAT Work?
GRREAT is very transparent in how its adoption process works. The team does not rush to place dogs with families and instead puts special emphasis on ensuring that they are placed with the most compatible home to suit their personality.
They like to start by doing a telephone interview with potential adoptive family, after which point they will try to help match you with the dog that would most suit your way of life.
Thankfully, any rescue dogs from GRREAT will already be fully neutered, vaccinated and spayed.
GRREAT Adoption Fees
Since it usually costs $1,000+ to rescue each dog, GRREAT has adoption fees depending on the age of the Golden you would like to adopt. This helps them to cover the initial medical care.
| Age of Dog | Adoption Fee |
| --- | --- |
| 3 years or younger | $750 |
| 4-7 years | $600 |
| 8 years+ | $500 |
The best way to hear about new Goldens is by signing up to become an approved applicant. Once you have done this, you will receive bi-monthly emails providing updates on the dogs they have available for adoption.
Southeastern Virginia Golden Retriever Rescue
SEVA Golden Retriever Rescue VA (SEVA GRREAT)
Website: adoptagolden.com
Phone Number: 757-827-8561
Socials: Facebook | Instagram
Service Area: South-East Virginia
The Southeastern Virginia Golden Retriever Rescue has rescued over 2000 dogs since starting in 1990, which is a highly commendable feat. It covers the south-eastern part of the state, including Virginia Bay, Chesapeake and other cities.
You can become a member of this rescue organization for $25 per year, which gives you an invitation to several of their annual meet-ups, as well as voting privileges at their annual election. This is a great way to get involved!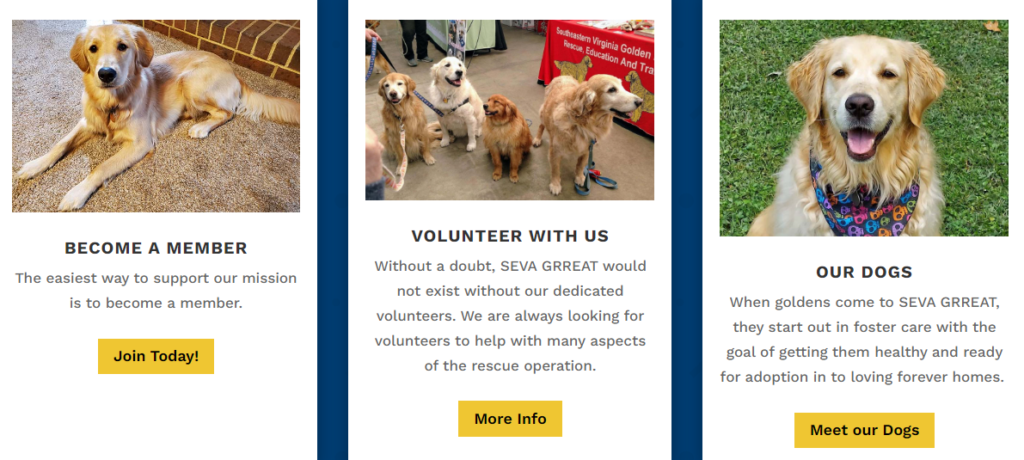 Volunteer as a Foster Home
Fosters play a crucial role in rescuing dogs, as they offer to provide them a temporary place to live while they wait to find a new forever home. It wouldn't be possible for rescues such as SEVA to operate without these volunteers, as it doesn't have its own shelter facilities.
As a foster, you would primarily focus on fulfilling the dog's primary needs, such as food, water and shelter. However, you may also have additional responsibilities like helping to build the dog's confidence or taking it through certain training.
You need to be at least 21 years-old to be a foster and you should ideally have a fenced yard.
Read more about becoming a foster on SEVA's website.
Adopting a Golden Retriever from SEVA
It costs SEVA on average over $1500+ per dog that comes into their care, so it also has adoption fees if you decide to rescue a dog. As you can see, the fees are very small compared to the amount that has already been spent on them for medical care.
There is a small $25 application fee in addition to the fees shown below.
| Age of Dog | Adoption Fee |
| --- | --- |
| 1-4 years | $500 |
| 5-8 years | $450 |
| 9+ years | $200 |
| International Dog | $850 |
If you're searching for a Golden Retriever rescue near Richmond, then SEVA is only about an hour drive away.
However, it is possible that at any one time there may not be any Goldens available for adoption. In this case, one option is to look at rescues in nearby states:
Golden Retriever Clubs in Virginia
Golden Retriever clubs in Virginia provide a great opportunity for both dogs and their owners to socialize and connect with similar individuals. We have listed the top two clubs below:
Rappahannock River Retriever Club
This club is ideal for Golden Retriever owners that want to install better obedience into their dogs. The Rappahannock Club has over 100 members to date and has members from all sorts of backgrounds.
If hunting interests you, then this club might be a good place to start out.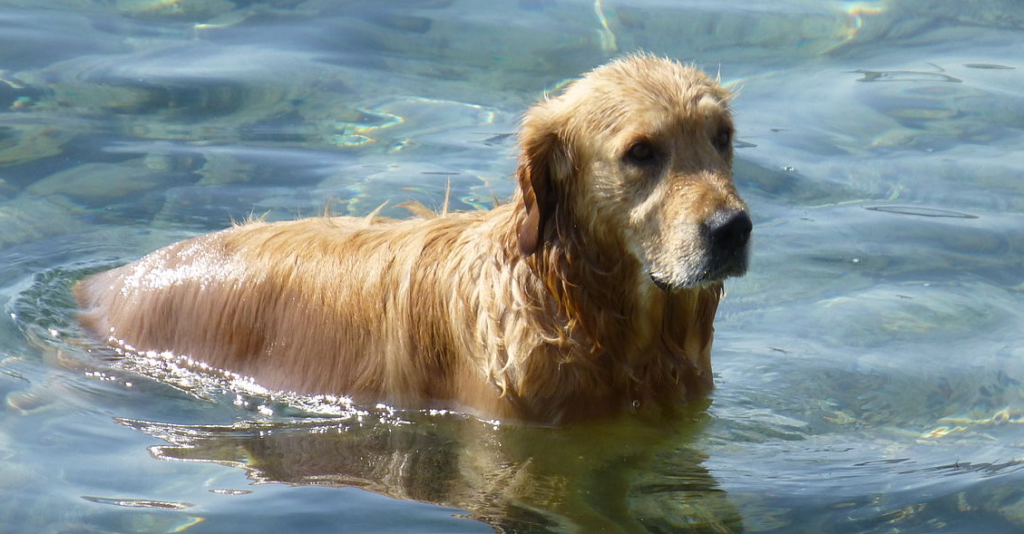 Lower James River Golden Retriever Club
Created in 1997, Lower James River Golden Retriever Club is a non-profit community that brings Golden Retriever lovers together across the state. The club has a variety of different members, including breeders, trainers, owners, and welcomes all lovers of the breed.
This community aims to spread awareness by promoting responsible breeding practices, which can help to reduce incidences of generic health problems in Golden Retrievers.
The Best Golden Retriever Rescue in VA
Overall, the best Golden Retriever rescue in VA depends on where you are located.
If you are based in North Virginia, then GGREAT is the most suitable option, whereas if you are closer to South-East Virginia, then SEVA GRREAT is the best choice.
Either way, the two rescue organizations we have spoken about on this page have been doing great work for many years and you will be making a good decision by supporting either of them. We wish you luck on your journey of rescuing a Golden!
FAQs
How do I adopt a Golden Retriever in Virginia?
There are two dedicated Golden Retriever rescue organizations in Virginia you can reach out to. Alternatively, you can contact nearby animal shelters to see if they have any that need rescuing.
How can I surrender my Golden Retriever to a rescue in Virginia?
Contacting the rescue organization as soon as possible is the best way forward when thinking about surrendering your Golden Retriever. It goes without saying that this is a tough thing to do, and should only be done as a last resort, but making sure you go about it in the correct way is crucial for the sake of the dog.
How can I volunteer at a Golden Retriever rescue in Virginia?
There are loads of ways you can get involved with volunteering at one of these great rescues we've mentioned. For instance, you can take part in fundraising events, short-term fostering, administrative tasks, and more!
What is the difference between shelters and rescues?
The key difference between a shelter and a rescue is the way they operate and the type of animals they take in. Shelters are usually run by government agencies and are tasked with bringing in all types of animals. Rescues are nearly always run by volunteers or non-profit organizations and have the purpose of rescuing and rehoming specific types of animal